Complete mechanical pre-treatment stations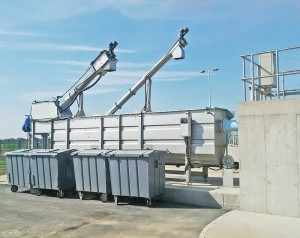 The WAU combined pretreatment system is an answer to the high civil works costs and large footprint required to execute complete pretreatment systems in concrete, screening channel, sedimentation tanks and hoppers FOG removal.  The WAU system is a state-of-the-art combined pretreatment system designed to optimally perform all the effluent pretreatment function, screening, grit removal, FOG removal, in a single  stainless steel machine.
The WAU range consists of the WAU 2 for screening and grit removal and the WAU 3 for screening, grit removal and FOG removal.
The WAU is generally supplied with the CFC Screw Screen, but in special execution it is also possible to provide it with the GTR auger rotating drum screen, the SSW step screen, the SMC sub-vertical bar screen, or the SMC-PH perforated plate and brush screen.